Policy Brief No. 9
October 2021
By Fionnuala Rogers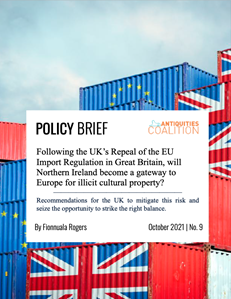 Despite international efforts to shine a spotlight on the deliberate destruction and looting of cultural property during conflict and the international community's commitment to stopping the industrial trafficking believed to be contributing to the financing of terrorist groups such as Daesh, Al Qaeda and others, illicit trafficking continues in plain sight, seamlessly integrating with the legitimate antiquities market. As long as market countries continue to facilitate the ability for illicit cultural goods to integrate with the legitimate trade, industrial and systematic excavations licensed by terrorist groups, looting and pillaging will continue.
The EU has sought to address this problem by streamlining import rules and preventing import without proof of legal export from the country of origin, a dramatic move which could significantly hinder the import of illicit, but also legitimate, cultural goods into Europe. The UK has taken a seemingly opposite approach, quietly revoking the EU Regulation on the Introduction and the Import of Cultural Goods (EU 2019/880) in Great Britain, while adopting it in Northern Ireland, yet failing to recognize the magnitude of its decision. The burden of enforcing contradictory import systems and the likelihood of becoming a target destination for illicit cultural goods that cannot enter Europe does not appear to have been acknowledged by the UK, and during the repeal process was downplayed significantly, sending yet another worrying signal as to the UK's attitude toward cultural property protection.
This paper examines the reasoning behind the UK's decision to repeal the Regulation (and failure to replace it) and critiques the assurances given as to the effectiveness of the UK's current measures. Next, this paper recognizes the UK's unique opportunity to adopt bespoke practices, which are more targeted and workable than those required by the EU Regulation, under its existing legislation while still meeting the objective. This paper makes a series of recommendations to encourage the UK to balance competing interests, meet its international commitments and take the role as a leading example for other art market countries in cultural heritage protection.
"The objective of the UK should be to strike a balance between prevention of illicit trafficking and maintaining a legitimate art market, while trying to streamline requirements, procedures, and practices across the UK as much as possible, when it comes to import. With too much focus on burdening dealers and auctioneers (the majority of whom are well aware of their legal requirements) and not enough focus on the risks of imports feeding the private and online markets, the UK has lost its balance and now risks losing its reputation and credibility as a country that is committed to cultural property protection and combating terrorist financing."

Fionnuala Rogers