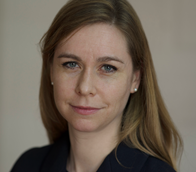 Haydee Dijkstal is a UK Barrister at 33 Bedford Row Chamber in London practicing international criminal law and international human rights law. She is also a US attorney with over a decade of experience in international law.
Haydee's practice in the area of international criminal law has included cases before the International Criminal Court, International Tribunal for the Former Yugoslavia, and the Special Court for Sierra Leone, and has involved the representation of victims, governments and those accused. Haydee is currently acting as counsel for a group of Afghan victims participating before the ICC.
Her previous ICC instructions include: co-counsel for victims of the Gaza Freedom Flotilla, and for the Gov of the Comoros, in the first Article 53(3) judicial review proceedings; Defence team for former Libyan spy chief, Abdullah Al-Senussi; legal team for the Gov of Kenya for its admissibility challenge; co-counsel instructed to submit an amicus curiae brief in the Palestine Situation (on the scope of the court's territorial jurisdiction); and co-counsel instructed to submit an amicus brief in the Ntaganda case (on the scope of 'attack' for war crimes against cultural property). She has been instructed as counsel for a number of Art 15 Submissions to the Office of the Prosecutor.
Before other tribunals, she was on defence team for Charles Taylor at the SCSL, and the defence team for Milan Lukic at the ICTY for review proceedings. Haydee's practice in the area of international human rights law includes cases before the European Court of Human Rights, African Commission and Court on Human and Peoples' Rights, and UN bodies such as the Working Group on Arbitrary Detention, the Committee against Torture, the Committee on Enforced Disappearances and before UN Special Rapporteurs.
Haydee publishes on the intersection between protection of cultural heritage under international law, and international criminal and international human rights law.